The remote control is located at the bottom right of the screen.
It has eight buttons and a little red dot appears on a button if the feature is active.
The first row of buttons are used to activate the Dev-scape or Optic device of each droid. The first button of the second row is used to activate the camera monitor.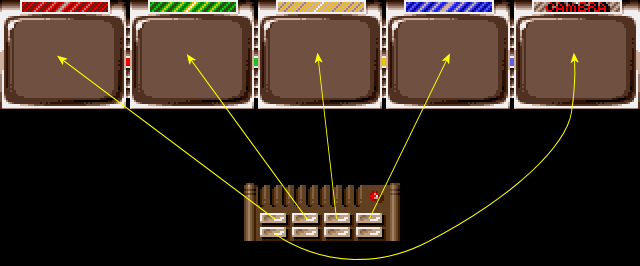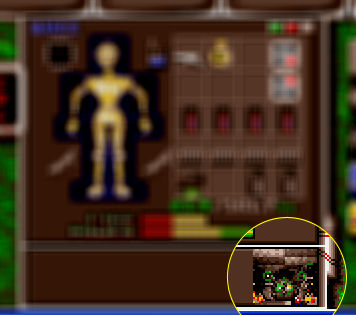 The second button of the second row is used to activate the main view in a tiny window while the regular view is hidden. It could be hidden by viewing the statistics/inventory of a single droid or while visiting a shop.
While this view is active, you can still move your droids using the keyboard shortcuts and perform any other regular actions by clicking inside this window. As long as this window is active, the leader will lose power at a faster rate.
The third button of the second row is to enable shadow from text written on the screen. This is to make it easier to read on poor quality television sets but at the price of performance, although barely noticeable. It has nothing to do with the game itself.


The last button deactivates the blurring of the "Climb up" and "Climb down" buttons when not located on a cell that has a ladder. When on, these two buttons are always accessible, but useless without a ladder.
| | | |
| --- | --- | --- |
| | | |
| Feature activated | | Feature deactivated |