There are three ways to bring up the skills of a droid.
Click the color bar over a monitor with the left mouse button.
Click the group button with the left mouse button.
Click the name of the droid while being in the inventory screen.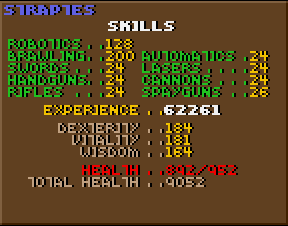 The first two skills represent the level of items a droid can use and are the only skills available at the beginning of the game.
Robotics: Level of robot parts you can use
Brawling: Level of brawling weapons you can use
Other skills will appear once skill 9 is achieved in the preceding skill. It is useless to increase a skill higher than 24 since the system only uses these values to know which type and quality the droid can handle. Once you can access the "Super" quality, a higher value won't affect anything. The only point of increasing a skill higher than 24 is to gain personality skills. Also note that the maximum brawling skill value considered when punching is 8 because the skill is used to determine the quality of the punch (from 1 to 8 meaning from basic to super)
Lacking skills
When you do not have enough skill to use a part or weapon, a small '

S

' will appear next to it.
| | | |
| --- | --- | --- |
| | | |
| Droid has not enough skills to use this head | | Droid has not enough skills to use this weapon |
Not having enough skill greatly reduce the performance of a body part or prevent you from using a weapon.
Experience points
The experience points are required to improve skill levels and increases upon any droid action such as using weapons, providing damage, receiving damage and even simply by walking. When an encounter is killed, they are not only given to the droid that killed it, but given to all four droids. To transfer experience points to a skill, click on the name of the skill.

Note that the amount of experience displayed does not exceed 65,535 even though it can internally accumulate up to 4,194,303. The reason for this is that Captive uses a 5 characters buffer to convert numbers to writable strings, so it can't display more than 5 digit numbers. The code that makes the conversion is not meant to work with numbers higher than 65,535 and this is why we don't see 99,999.
Personality skills
Under the experience level are three skills that define the personality of your droid:

Dexterity: Higher dexterity hit harder and better
Vitality: Higher vitality dodge hits better
Wisdom: Higher wisdom gain more experience

These personality skills can have a maximum value of 253 and one them is randomly selected to be increased each time you increase a fighting skill.
Health
Finally, the two remaining values are regarding your health:

Health: The health of your chest
Total health: The sum of all your parts' hit points

You can click the name of the droid to switch to the inventory screen.
Skill Costs
The cost of increasing a skill increases at each level. A cost of 35399 is set for any fighting skill level above 24 (as said earlier, a fighting skill above 24 is useless) and a cost of 65535 is set for any robotics level above 59.
Level
Robotics
Brawling
Swords
Handguns
Rifles
Automatics
Lasers
Cannons
Sprayguns
1
10
8
30
72
216
648
1944
3888
7776
2
19
9
32
77
230
689
2066
4131
8262
3
29
10
34
82
244
732
2195
4389
8778
4
40
11
36
87
259
778
2332
4663
9327
5
53
12
38
92
275
827
2478
4954
9910
6
67
13
40
98
292
879
2633
5264
10529
7
83
14
43
104
310
934
2798
5593
11187
8
101
15
46
111
329
992
2973
5943
11886
9
121
16
49
118
350
1054
3159
6314
12629
10
144
17
52
125
372
1120
3356
6709
13418
11
170
18
55
133
395
1190
3566
7128
14257
12
199
19
58
141
420
1264
3789
7574
15148
13
231
20
62
150
446
1343
4026
8047
16095
14
267
21
66
159
474
1427
4278
8550
17101
15
308
22
70
169
504
1516
4545
9084
18170
16
354
23
74
180
536
1611
4829
9652
19306
17
406
24
79
191
570
1712
5131
10255
20513
18
464
26
84
203
606
1819
5452
10896
21795
19
530
28
89
216
644
1933
5793
11577
23157
20
604
30
95
230
684
2054
6155
12301
24604
21
687
32
101
244
727
2182
6540
13070
26142
22
780
34
107
259
772
2318
6949
13887
27776
23
885
36
114
275
820
2463
7383
14755
29512
24
1003
38
121
292
871
2617
7844
15677
31357
25
1136
35399
35399
35399
35399
35399
35399
35399
35399
26
1286
27
1454
28
1643
29
1856
30
2096
31
2366
32
2669
33
3010
34
3394
35
3826
36
4312
37
4859
38
5474
39
6166
40
6944
41
7820
42
8805
43
9913
44
11160
45
12563
46
14141
47
15916
48
17913
49
20160
50
22688
51
25532
52
28731
53
32330
54
36379
55
40934
56
46058
57
51823
58
58308
59 to 65
65535
66+
35399