Disk

The disk is used to load or save a game. To load a game, click the disk with the left mouse button. To save a game, click with the right mouse button. You will then need to select the slot to use.
| | | |
| --- | --- | --- |
| | | |
| Restoring a game | | Saving a game |
A save game only takes 14,990 bytes. This means that on a regular 720k floppy disk, it is feasible to save 48 games. When I asked the programmer why the number of slots were limited to 10, he replied "Ten looked a nicer display. I thought 15 look awkward, plus while developing the game, if the levels get bigger, I would have to change the menus to reduce the number of levels."
One popular question is regarding the "Loading restraint" message that may appear while trying to load a saved game.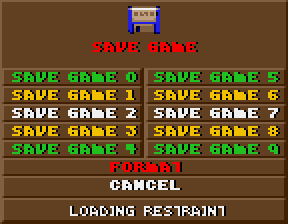 Regarding game loading, the original manual says "...teams can only be regenerated once they are in the space ship". It helps to prevent players from playing without proper care because they would be able to easily restore a saved game if they screwed up.